In light of the government restrictions being removed from the 19th July and the request that we all take responsibility and play our part in reducing the risk of the spread of the virus, the Aylesford Community Centre Trustees have agreed that some of the restrictions will continue to be adhered to in the community centre for the time being.
The wearing of a face covering and keeping distance will continue in the corridors, toilets, kitchens and in the bar area.
In the halls the hirer will decide what steps they deem to be necessary to ensure the safety of their attendees, according to their own risk assessment.
With your help the Centre can remain open. 
---
Our Mission Statement.
To promote the benefit of the inhabitants of Aylesford parish without distinction of sex or of political religious ethnic or other opinions by the advancement of education and provision of facilities in the interests of social welfare and in particular for use for recreation and leisure-time occupation with the object of improving the conditions of life for the said inhabitants.
---
The Centre is ideally placed close to Maidstone and the Medway Towns. Aylesford Community Centre offers great facilities for a wide range of users, from the discerning individual looking for value for money in a local venue, to the commercial organisation requiring modern facilities and easy access. Our community groups whose need for small and medium meeting areas are also catered for.
The Community Centre has three halls available plus a small meeting room for hire ranging from:
The Main Hall, 18m x 9m x 3.8m high, capacity 240, when hired with the connecting smaller hall capacity is 300. The main Hall also has a full stage. This hall has a fully sprung dance/sports floor and is completed by a full size curtained stage.
Kings Studio, 13.4m x 4.3m x 2.35m high, max capacity 50. This smaller hall has a laminate floor, it is ideal for a children's party or exercise class. It also has access to the adjacent small kitchen for the preparation of drinks and snacks .
The Madge Jackson Hall, 11m x 5m, max capacity 50. This hall has a carpeted floor, ideal for meetings and a small family get together as well as community group meetings. It also has access to the adjacent small kitchen for the preparation of drinks and snacks .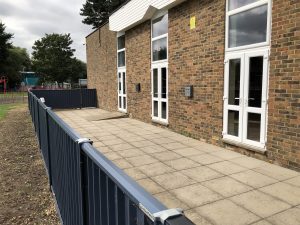 David Loader Library Room, 5m x 3.5m, capacity 22 theatre style and 14 boardroom style. Suitable for small meetings or as a breakout room.
A large kitchen is available for event catering in the main hall and a smaller one for the Madge Jackson Hall and Kings Studio users. The Centre is a licensed premises and a fully staffed bar is provided on request as part of your hiring package.